We are the campus workers that make campus work. We work across classifications – from  instruction, research, and academic support, to service, maintenance, clerical, and technical – and come together across institutions to organize for a voice on the job and in the public sphere on matters big and small.
We bring our passion and our values with us to work in hopes of creating a better world; we care for and maintain public institutions, support student learning, create and disseminate knowledge, and shape critical thinking. Our work has an immeasurable impact on society. Students' learning conditions are our working conditions. 
We are building the power to take higher education back from corporations and billionaires and put it in the hands of workers, students, and communities. A full time job should keep us out of poverty not in it. 
Join us to stand up for fair pay, quality benefits, and a voice at work and beyond!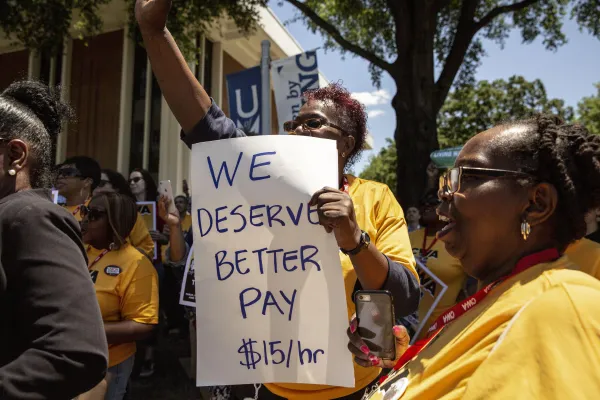 Our History
All major movements for social change in the United States have included organizing in the South. Nowhere in this country is organizing more important than in the region where workers, particularly women and workers of color, have been systematically exploited.
While we do not currently have the legal right to bargain with our employers, this is only one method workers have historically used to raise their voices and make change at work.  
In the 1980's state employees without formal bargaining rights in Texas, Oklahoma, and Missouri organized with CWA on a mass scale, realizing public worker rights and material gains. Following a Living Wage Campaign in the 2000s, the United Campus Workers of Tennessee declared together, "we are a union."
Since then we have won victories big and small, including the stopping of outsourcing of thousands of facilities services workers across TN's public higher education institutions, to winning across the board pay raises for employees and raises in base pay to bring campus workers closer to a living wage; we've stopped harassment from abusive supervisors, and changed the culture of many of our workplaces and departments. 
And our movements across campuses continue to grow. Today UCW Tennessee has over 2,000 members strong and has inspired more than 1,000 new UCW members to organize, fight, and win changes across the Southeast. Many issues unite us, and our fair pay platform includes many of them: 
Fair Pay Platform
Minimum starting pay of at least $15 an hour, $32,100 annually;

Annual cost of living increases;

Equal pay for equal work, including for adjunct faculty, graduate, and undergraduate workers;

Policies that address compression, pay inequities, and job segregation by race and gender;

Free higher education financed through fully funding public higher ed;

Secure jobs working directly for our public education institutions; no privatization;

High-quality, affordable employer-sponsored benefits such as healthcare, paid parental leave, and retirement;

The right to collectively bargain to have a voice in determining working conditions.